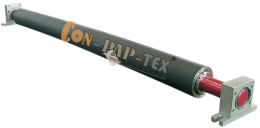 We are the largest manufacturer, exporter and supplier of all types of bow rolls for various industries with a wide range of application as per client's requirement. This is the most widely used wrinkle remover device. These mainly include bow-shafts, sealed ball bearings, metal segments, abrasion resistant, rubber sleeves etc. Con Pap Tex incorporated into manufacturing and exporting business of Bow Roll from India. Our skilled engineers have designed bow roll for application to get the best result from wrinkles. We assure the audience of premium quality of wrinkle removal from bow roll with international industry standards. We manufacture expander rollers that have extremely wide spreads and are acceptable for an equally wide range of application and web content. They can be supplied with mounting brackets, which can act as either wall mounting or foot mounting. The Expander Rollers we offer include bow shafts, sealed ball bearings, abrasion resistant sleeves and metal segments. Widely used as a wrinkle removal device in many industries and we have it available in various dimensions. In addition, these gear sets and mounting brackets are also provided which can be either foot mounted or wall mounted.
Standard Features
Bow Roll
Single Acting Bow Roll
Double Acting Bow Roll
The Performance of our Bow Roller depends upon the following points:
Wrap angle
Lead-in & Lead-out distance
Position of bow (Adjustable)
In this, 3:1 (lead-in: lead-out) ratio is considered to be the perfect. The best results are attained when Bow Roller is perpendicular to the web direction.
Advantages of our Bow Roll are:
Control Slack Edges
Remove wrinkles
Separate slit webs on winder
Eliminate baggy center
Try to even out lateral tension across the web width
Application
Used in Differerent Industries : Industries Like Paper, Tyrecord, Plastic Packaging, Woven Sacks, Pharmaceuticals, Leather, Textile, Plywood, Sheet Line Material Handeling and many more.
Our equipments are used for following Applications:
Rewinding – Converting, Textile, Paper, Tire
Unwinding – Converting, Textile, Paper, Tire
Marking, Coding and Printing Applications
Slitting – Any type of Laminate
Packaging
Wrapping
Printing – Converting and Textile
Tracking
Controlling Tension & Edge of Laminate / Fabric.
Roller used in Different Machines for Plastic Industry
Printing Machine Flexible Printing Machine
Flexo Machine
Lamination Machine
Graver Machine
Scaling Machine
Pipe Plant
Winding Unwinding Machine
Offset Printing
Box Strapping Machine
Roller used in Different Machines for Textile Industry
Stenter Machine
Jigger Machine
Rotary Machine
Dyeing Machine
Calender Machine
Mangle Machine
Loop Steamer
Technical Specification
Rubber Sleeve Covered. (High Quality Synthetic Nitride Sleeve).
Metal Expander with hard chrome plated surface for high speed application.
Vary Bow Expander Roller.
Expander Roller for non-sticking application.
Quick Inquiry